Grout removal and repair

When grout begins cracking and chipping the only way to repair it is to remove the damaged grout and re-grout it.

process:
1. Remove grout
2. clean area completely
3. Color match grout
4. Apply new grout

Cure time for the new grout is 48-72 hours.  We don't recommend cleaning the area for 4-5 days. After a week you can clear seal the area (if your floor is sealed to start with)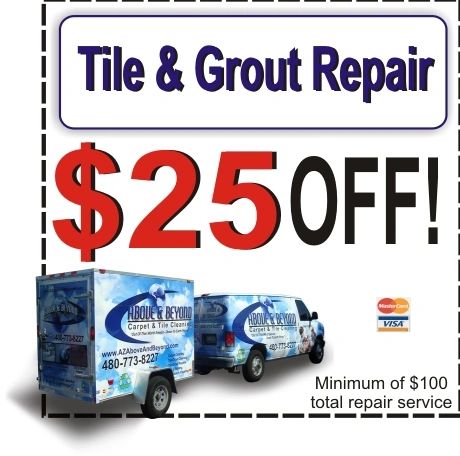 Tile Repair
Glazed ceramic tile is among the most durable floor, wall and countertop coverings and, when properly installed and maintained, it can last a lifetime. But as tough as it is, tile isn't indestructible. Anyone who has dropped a cast-iron pot or heavy can of food on a tiled kitchen floor is well aware that the fire-hardened glaze on tile can chip. And the tile itself will crack under normal, everyday use if it's hiding a manufacturing defect or if the subfloor flexes too much.

The hardest part of tile repair is finding a replacement tile that matches. First, check your basement, garage or storage shed - the tile setter might have left a few extra tiles behind when the floor was laid. If you don't find any, check with local tile dealers for a match.
But if the floor is old, finding a matching tile could be impossible. Manufacturers often discontinue old patterns and colors as new ones are introduced. Unless you're willing to live with the damage, choose a replacement that comes close.